See Photos That Make Nigerian Police Ranked Worst In The World |Alertnaija.com
Here is a trending pictures of some of the Nigerian Police action few days after it was ranked as the worst force in the world.

The World Internal Security and Police Index International, WISPI in its 2016 report rates the Nigeria Police Force the "worst" globally in terms of its ability to handle internal security challenges.
The report was released by the International Police Science Association, IPSA, and the Institute for Economics and Peace, a nonprofit organisation that brings together experts, researchers and scholars concerned with security work from all over the world.
On Monday, it was a clash between the students of the Federal College of Agriculture, Moor Plantation, and police officers broke out in Apata, Ibadan, the Oyo state capital.
The Oyo State Commissioner of Police, Abiodun Odude, has said four cops were admitted to a hospital after being injured in a clash and eight police vans were also damaged in the clash.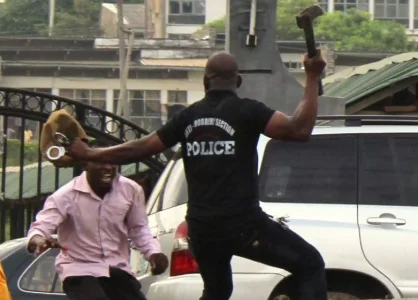 The students trooped to the Ibadan-Abeokuta Expressway around 6.30am, blocking the main road linking Oyo and Ogun states, with many motorists forced to take alternative routes to their destinations calling for the removal of the Provost of the school, Dr Babajide Adenekan, after a disagreement between Adenekan and members of the school's Academic Staff Union of Polytechnic, Non -Academic Staff Union and the Senior Staff Association of Universities, Teaching Hospitals, Research Institutes and Associated Institutions.
www.alertnaija.com
Like Our Facebook: https://www.facebook.com/AlertNaijaUpdate/ for more
READ SHARE TWEET COMMENTS !