News Flas! National Embarrasement: NTA's Microphone Everyone Is Talking About [SEE PHOTOS] |Alertnaija.com
Several reactions have trailed the use of a sellotaped microphone for interview by the foremost federal government owned station, the Nigerian Television Authority (NTA). The sellotaped microphone was spotted in use by one of the station's journalist for an interview with the British High Commissioner, Mr Paul Arkwright when he paid a courtesy visit to the Alaafin of Oyo.

The picture which shows the microphone has continued to make the station trend on social media with several Nigerians reacting to it
.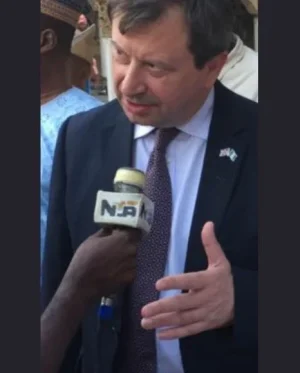 www.alertnaija.com
Like Our Facebook: https://www.facebook.com/AlertNaijaUpdate/ for more
READ SHARE TWEET COMMENTS !