ShockingResponse: Femi Aribisala 'Cuts Down' Zahra Buhari Over Aso Rock Clinic Statement |Alertnaija.com
A legal practitioner, Mr. Femi Aribisala has berated the daughter of the President Muhammadu Buhari, Zahra, over statement that his father did not know about the 'poor state of Aso Rock Clinic'.

Aribisala in a twitter post said: "Zahra Buhari: "My Father Is Not Aware Of Poor State Of Aso Rock Clinic."
"Is he aware of the poor state of the country?"
Zahra and her mother, Aisha Buhari had blasted the management of Aso Rock clinic over inability to cater for minor medical tablets such as paracetamol, syringe and x-ray facilities in the clinic.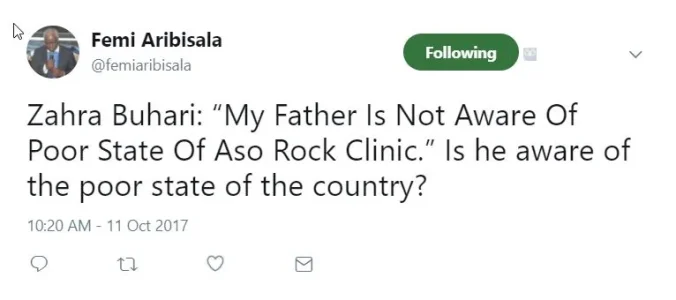 www.alertnaija.com
Like Our Facebook: https://www.facebook.com/AlertNaijaUpdate/ for more
READ SHARE TWEET COMMENTS !