Blue Ivy has a new little brother and sister! Beyoncé gave birth to twins, a baby boy and girl, on Monday, June 12, multiple sources confirm to Us Weekly.**
Beyonce and Jay Z Pop diva Beyonce and her rap mogul husband Jay Z have welcomed twins, according to US media reports on the two new members of music's royal family that already includes five-year-old Blue Ivy.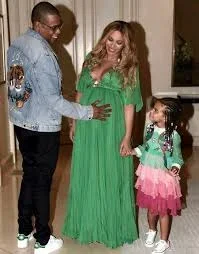 **
News that the songstress had given birth, reported by entertainment outlets including People magazine and US Weekly, ignited social media, with the so-called "Bey hive" fan group buzzing over the yet unrevealed sexes and names of the latest additions to the Carter Clan.
**
US Weekly cited multiple unidentified sources as saying that the twins were born earlier this week. Entertainment news outlet E!, also citing unidentified sources, said the couple had been spotted at a Los Angeles area hospital on Thursday.