Nigeria Police Denies Inserting Broom Into Evans' Manhood | Alertnaija.com
The police have denied reports that officers who arrested the "most wanted" kidnap kingpin last Saturday stuck broomsticks up his joystick to spiritually disarm him.
"The report is not true. It is unfounded. Nigerians should disregard it," police spokesperson, Jimoh Moshood, said.

Chukwudidumeme Onuamadike, a 36-year-old native of Anambra State, was arrested at his residence in Magodo Phase II, Lagos, around noon Saturday, bringing relief to law enforcement authorities who trailed him for years.

Mr. Moshood said Mr. Onuamadike's arrest was a major success and a moral booster in the war against incessant kidnapping, which has become a lucrative enterprise for hardened criminals in recent years.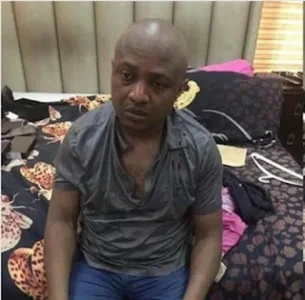 "Millions of Nigerians in different parts of the country who dreaded this suspect will now be able to sleep with their two eyes closed," Mr. Moshood said.

As part of its reporting of the development, The Guardian said security operatives who participated in the high-profile operation inserted broomsticks into Mr. Onuamadike's joystick.

"A ritual where a broom was inserted into his private organ was then performed as a sort of spiritual disarming before he was handcuffed," the paper reported Sunday morning without quoting any officials or witnesses.

Denying the claims of gruesome torture, the police said it was highly unlikely that any adult male with broomsticks in his organ would still be able to stand upright.

"If they insert broomsticks into a man's joystick, would he even be able to walk?" Mr. Moshood said.

"No one should be casting aspersion on the police, especially when officers are making high-profile arrests in an effort to ensure peace and security."

"He was paraded before the media and he expressed himself with ease," Mr. Moshood said.

"Nobody can stand with such a torture."

"We don't violate citizens' fundamental rights, no matter the gravity of their crimes."